District Notice
Please join us for "A Community Conversation" May 28
The Board of Trustees of Palliser Regional Schools invites you to join "A Community Conversation" on school success. Students, staff, parents and public from across Palliser are invited to pick up where our Community Conversation in 2012 left off, talking about factors that support school and student success. This event is open to everyone from 1 to 3 p.m., Thursday, May 28 in Vulcan. Please click here to register by noon, Monday, May 25. Learn more here.
Welcome to HCA!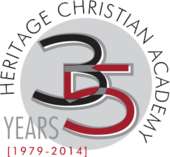 Whether you are looking for a school for your family, are already connected with HCA, or are just curious about who we are, we are glad you're here and invite you to contact us with any questions you may have about our school.
___________________________________________________________________
"Equipping students for life through Quality Christian Education
that inspires commitment to Jesus Christ, and excellence in academics, moral character and service to others."
___________________________________________________________________
35 Years - All-School Celebration Join us for a 'Picnic-style' (bring a blanket or lawnchair(s)) time of celebration and fellowship in the HCA courtyard. Enjoy 'tacos-in-a-bag' and anniversary cake. We will be dedicating the new athletic field at 4:45 pm. FREE TICKETS must be reserved online at HERE. A suggested donation of $2/person will help us cover expenses.
HCA ALUMNI - If you attended Heritage over the last 35 years (or are the parent of an HCA alumni) we'd love to hear from you. You are invited to join us at an Alumni event on Friday May 29 at 7:00pm. Reserve your FREE tickets on eventbrite HERE 
More info is on the Alumni events facebook page!