OFFICE HOURS
The office will be open on Tuesdays and Thursdays from 9:00 am - 2:00 pm for Society business only. All educational staff will be on vacation.
Regular office hours resume Tuesday, September 6, 2016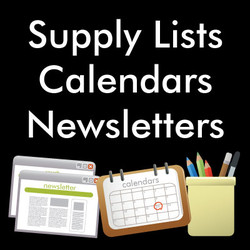 Important Information
Calendars   Supply Lists   Uniforms   Newsletters
Can't find the information sheets your child brought home on the last day of school? No worries, they're all on our website!  
Back2School Event
Tues Sept 6 beginning at 3:15 pm
Join us for a Food Truck Frenzy with Family Squeezed Lemonade, Family Freezed, The Sugar Cube, Savino Pizzeria, Bento Burrito and Red Wagon Diner food trucks in the courtyard. The first 600 current students +1 (for family members) will receive $5 in tickets to use at the foodtrucks. Line-up by student last name beginning at 3:15 pm. Food trucks accept cash and credit (some also take debit). Picnic Style so bring a blanket or lawn chairs. 
- Dunk Tank fundraiser for the new playground begins at 3:45 pm. adults $10/3 balls and students $5/3 balls. Come dunk teachers, board members and student leaders. Join us for the Playground Spade Turning ceremony with dignitaries and guests at 3:30 pm.
- Prayer & Worship led by Rev7 students begins in the chapel at 5:00 pm.  
- Contact Jen Airhart with questions or to volunteer to set up on Tuesday afternoon.
SUMMER READING
Links to grade/age appropriate books and reading ideas.
Grade 1 (6-7 years old)  |   Grade 2 (7-8 years old)  |  Grade 3 (8-9 years old)  |  Grade 4 (9-10 years old)  |  Grade 5 (10-11 years old)  |  Grade 6 (11-12 years old) 
** Mrs B will give a prize in September to any student who brings in 'proof' of their summer reading (ie. reading log, ballot for summer reading contest, etc)

 - PAY SCHOOL FEES ONLINE - Click on the image to be taken to the registration page for School Cash Online