You are invited to attend The Blessing Generations Weekend Encounter* at Master's Academy in Calgary is on May 4th and 5th. $60/person or $100/couple. More info and registration is available at https://conta.cc/2vzUZq.
* Neil Campbell, from Family Foundations Canada, has been part of the annual Grade 9 Blessing event at HCA over the last few years, and this weekend encounter is a key piece of their ministry. In this Blessing Generations Encounter, Craig Hill teaches on video about the seven critical times in life that God intended us to receive blessing in order to establish identity and destiny for our lives and in the lives of our children. Join this life-changing weekend.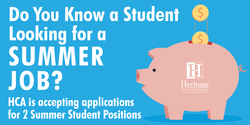 Visit http://hcacalgary.com/contact-us/employment-opportunities for job descriptions and application information.
- PAY SCHOOL FEES ONLINE - School Cash Online is the way to pay school fees including activity fees, athletic team fees, fundraisers, etc... (NOT for Society Christian Ed. contributions). Click on the image to visit registration page for School Cash Online.